Rousseau And The End of Terrorism
ROUSSEAU AND
THE END OF TERRORISM
The Science of the Creative Cluster
by
Frank W. Andres
© Copyright, Frank W. Andres, 2020. All Rights Reserved.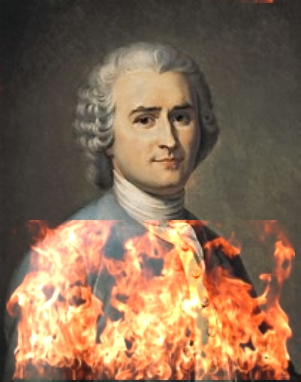 Dedicated to Avalon
This is a Minibook…..Instead of expressing an idea and then blowing the number of pages up, up towards three hundred just so we can charge $25 as is currently the fashion, we are presenting the kernel of an idea….in the hopes that ideas can be transmitted more rapidly and breakthroughs can occur now, not next century. There is a fifty percent chance that humanity will not make it through this century….it is important that we make as much progress as fast as we can…so as to avoid an untimely demise.
Visit us at:
Introduction
'Anarchy,' 'Terrorism', Mob Violence!…These are words that strike fear into the hearts of any and all worthy citizens of any nation…developed or developing….Such fear is justified because the use of such words is always associated with destruction, and disruption.. Yet violence by an individual directed toward society…is usually a symptom of frustration expressed by a generation whose time has not yet come. It is evidence that some people are thinking and working ahead of where existing institutions will allow them to think and work. But now the truth is becoming clear…Violence is never the solution for anything…War is the great example of that….At their base… usually war, terrorism, anarchism, mob violence have to do with .institutions …that must be modified or replaced…as society marches forward from one epoch to the next…The secret is to look to the past, to history…and then ahead to where existing trends are moving…and prepare…start now to begin peaceful change…to begin to make the changes in institutions that will be required…for transition, for transformation…from one epoch to the next…The truth is… transitions and transformations are necessary… now… right now…for humanity… to survive this century…
Okay, so we hear time and again…that there is a fifty percent chance that humanity will not make it out of this century…the great 21st century…. with its civilization in tack…For one thing…we are out of cheap oil…out of cheap energy…Then too, we have built a world corporate machine so great that it can almost run itself…which is a wonder…and a wonderful thing…however, fewer and fewer people are required to produce the commodities and services we require…What are people going to do? How will they earn a living? Also, the 20th century was the apex of human evolution…yet two-thirds of the world…was left out…or left sadly behind… which is a source of what Friedrich Nietzsche termed ressentiment...that is, half envy of the West…and half anger about being left out of things..
We need to build the 21st century..and two decades are already gone!… Humanity has done it!..It has been able to create the equivalent of the American Dream and it seems…to be within the reach of all!…world-wide! Well, this could be true if we have enough resources, and energy…But there is something missing…even if the minimum needs of people are routinely met…and people in the world all over the world are able to have more than that…without fear…without exploitation…something is still missing…Well, there is the death of God…that Nietzsche was also always concerned about…The Greeks solved that problem by routinely featuring competitions in which citizens could create gods of their choosing, each with its his or her own back story….and some caught on….Problem solved! However, Nietzsche felt that modern man and woman merely were replacing God with modern ideals and ideologies of democracy, socialism, nationalism, utilitarianism and materialism…stressing humanitarianism and pity, they had embraced the 'slave morality' of the first Christian in Rome…which for him proved.. .that the incorrigible human will would rather will nothingness and destruction than not will at all…
There is another thing that is missing. Humans are living in an artificial world…of their own making. The thing is…human Will has always been implemented by tools that he and she have created…That is, the creation of tools….is the definition of biological man and woman,…It is their signature… Creating tools is not a philosophical stance, an ideological choice…it is a biological, anthropological reality…The problem is…that man and woman's tools have become so great, so glorious that they have created a world which is completely foreign to the biology of the creator….So in the midst of splendor and the ability of perhaps creating all we need…there is frustration, disconnect…First, there must be enough for all…but then there is that second fear…that even if we are able to provide everything everyone requires material-wise…will that be enough? For the process of creating tools…. presents a world that is not only incompatible with our physiology…but one that is fundamentally incompatible with our psychology…nay, worse…it is incompatible with our innate philosophy of life…materialism seems to eventually and ultimately run counter to our natural needs and wants….It is this basic incompatibility that leads to terrorism. This is what the Romantics in history…were all about…They were always focused upon…what in modern society can drive people to destroy all that has been built…
I think we have solutions…at hand… to the major threats confronting humanity…in the 21st century…There is one thing in particular…that I want to try…now! Well, there is one thing…that I want you to do…today….Yes, You! Today!…I'll tell you what this is later…But you…are going to start building… the 21st century!
So I have these solutions…and these solutions would provide answers to so many problems…that confront us now… including terrorism…Up until now…it has been too soon…But now we can start doing something. But be ready for it!…These solutions are going to begin to create a different world… a really good world…different from what we have now…I have presented such a messianic world in my book, Omicron Blue. (2020)…My solutions feature one glittering possibility, one strategic replacement for all the institutions we now have…the creative cluster…However, this invention must stand up to…must embrace all that is intrinsic to…the ideas that the Romantics, starting with Jean-Jacques Rousseau….then the German Idealists… and then the Russian Nihilists….were most concerned about…
So this minibook is about terrorism…and about saving humanity…in countries that are developed or developing… And exactly what might occasion this demise? .Well, the threat of nuclear war is real and theoretically conclusive…for the earth…Yet…then there is global warming…Yes!…It is of course of first rank when and where destruction is concerned…when we are speaking of the earth and its inhabitants… Still…there is one word which is the one we most fear…that of Terrorism…for its nature is such that it is as a ghost which cannot be held still for counter action to take place….Terrorism is individualistic…it is sporadic… irrational … .crazed! It is totally unpredictable, exhibiting every possible means of destruction….
So…is it not then possible that terrorism is the the worst of possible calamities…because it is an evil for which…there is no answer…no solution….no antidote?…
Yet there is a book…which lays out a thesis quite surprising concerning terrorism…That book is The Age of Anger, by Pankaz Mishra…His thesis is…that terrorism is not a recent phenomenon…its roots can be traced back…to the 19th century…no…even further back… into the 18th century….He claims that the roots for this great threat actually can be traced back to one man…who lived from 1712 to 1778…His name was…Jean-Jacques Rousseau!…I know…you are shocked…after all was not this man a bona fide and respected philosopher…one whose ideas seem to have been absorbed by every prominent and eminent Declaration of Rights and/or Independence?…I mean…surely this author must be wrong…
Yet the more you read this book…you see that the author is right…What he is actually saying is…that terrorism is a philosophy…It is the product of theory…at least as far as maybe ninety-five percent of it is concerned…And the evolution of that theory, that philosophy….can be traced….step by step…as it rose from first murmurings…as it evolved to become the ISIS of modern day….If it is indeed a theory…if it is indeed a philosophy…then there is the possibility that a cure can be found…for theory, philosophy are based on legitimate grievances… and grievances can be addressed and assuaged…If there are ways of doing things that need to be altered…well, then they can be altered….and indeed in this case…I maintain…there is help at hand…help that is naturally beginning to arise…right in our lives today…
So what am I talking about? Well, let us go back, back to the beginning…and see what Mr. Mishra is talking about…Let us go back…to the beginning…Let us start…with Monsieur Rousseau.
Rousseau and the Enlightenment
As was said, Mishra maintains that there is reason to say that terrorism that plagues the world today and which most of us consider to be a modern day phenomenon…actually begins in the eighteenth century…with Rousseau…That this central revolutionary tradition was inaugurated by Rousseau is scarcely even a memory today…As we seek ways for humanity to survive the 21st century, it is incumbent upon the student of history to see what the essence of the terrorist phenomenon in actuality is, how it has developed, and been exacerbated in recent years, .We find Rousseau confronting the ideas of the Enlightenment in mid-18th century…before these ideas based upon a new science could be realized by Industrial Revolution during the period, 1760 to 1790. Rousseau could see problems related to powerful mathematical and scientific tools that mankind had just developed in the 17th century….Rousseau felt that the arts and sciences were responsible for the moral degeneration of mankind which he felt was basically good by nature.
One major intellectual institution in Parisian society during the 18th century was the salon. Salons rose to prominence during the 17th century in Paris. The most famous Paris salon of the 18th century was that of Madame de Lambert in her town house on rue Richelieu in 1710. The emergence of salons allowed for leadership and involvement for women in intellectual areas in Paris in the early 18th century. Guests at salons usually came from the haute bourgeois or nobility. Most were educated, well read, and informed about politics, current affairs, and intellectual debates. By the last quarter of the 18th century, the salons had become de facto universities or tutorial groups, specializing in Enlightenment ideas and philosophy. The salons and their male-led counterparts, the cercles and cafes…were social, gatherings rather than cohesive revolutionary groups. All major writers of the Enlightenment enjoyed royal or aristocratic patronage…Intellectual autonomy was in question…Patronage was being transformed by a commercial print culture…In France, an Enlightenment presence depended on a relationship of plebeian genius and patrician taste..membership was restricted and writing, strictly controlled….Rousseau because of his views…was locked out of these centers of intellectual discussion ..The setting for opinion and argument originally created in France's eighteenth-century salons by face to face relations..has changed…people with reasonable and exciting ideas, and urbane civility are able to be published…now in the 21st century… the salon…in its Facebook incarnation often filled with words from people who we are most concerned about…people who feel extreme emotions, feel left out of things, feel real a need to better society…yet are a threat to the society itself…These people, whom any solutions advocated must address…are often racists, misogynists and lynch mobs,…who are often anonymous contributors to political discussions.
Part of Rousseau's ideas that were kept out of polite discussion was that he was darkly aware that things like wounded honor and the desire for glory and recognition….often drive humans beings more than economic motives….
Rousseau at first sought entrance to these salons..however, it was not long before he ranged himself against them, where he had lingered long enough to cultivate a suspicion of intellectuals, specialists, experts, and their rich aristocratic and despotic patrons. Here in the salons…were the beginnings of the public sphere where intellectuals met…to discuss the civil sphere…that is, how to change government…a discussion which was one of the great spurs of modernity, but Rousseau began to see this public sphere… as being composed of centers of soul-destroying hypocrisy. 'In the midst of so much philosophy, humanity, and civilization, and of such sublime codes of morality,' he wrote, 'we have nothing to show for ourselves but a frivolous and deceitful appearance, honour without virtue, reason without wisdom, and pleasure without happiness.'
One thing he held against the Enlightenment was the competition it set up between individuals…'We resent everyone…who run at our side, who hamper our stride or leave us behind. In clearer terms all contemporaries are odious….', wrote Emil Cioran. Rousseau had first experience regarding this competition…first he was shut out of the clubs…then he took issue with what they believed… which, as we have said, was part of the reason he was excluded to begin with…because the ideas of the patrons were what counted…
And what were these ideas that these patrons believed in?
Well…François-Marie Arouet…known by his nom de plume as Voltaire… exhorted human beings to look forward to the present and the future. The golden age, he asserted, was where he was, a sensuous utopia where 'needful superfluous things appear'. He praised the civilizing effects worldwide of trade, material prosperity, and consumerism. In fact, Voltaire made a life of luxury and comfort seem a legitimate, even necessary, political and economic goal, one reached best by global commerce and consumption.
Boldly confessing his love of conspicuous consumption, Voltaire flouted Rousseau's dictum that the rich have a duty 'never too make people conscious of inequalities of wealth'. But then this rising commoner felt himself to be on the right side of universal progress…and he was not alone, nor wholly wrong. In 1736, Voltaire published 'Le Mondain' an eloquent ode to the good life, as he boldly and originally conceived it…
The vision of universal uplift seems another example of intellectuals and technocrats confusing their private interest with public interest, their won socio-economic mobility as members of a lucky and arbitrarily chosen elite .. with general welfare. Rousseau felt that…nowhere does the evidence of moral misery accumulate faster than in the so-called public sphere… In the rush to embrace the new science, new possibilities… morality and concern for important needs of a person…were neglected.
The thing is… what the wealthy patrons believed and forced their employed philosophe underlings to disseminate was surprising…and very dangerous for them as an elite caste…if they had really thought things through…I mean, these were aristocrats who relied upon a mediaeval way of life to keep their status and their heads!…Yet they were the ones who were forcing philosophes to adhere to a party line which was very modern, very Enlightened…and very inimical to their own interests in the long run… Rousseaus' ideas should have been very welcome among them…but they were not…
Rousseau emphasized his fervent belief in a spiritual origin of man's soul and the universe, in contradiction to the materialism of philosophes like Diderot…Rousseau advocated a fervent defense of religion….although he, himself, was agnostic for the most part. Rousseau criticized Thomas Hobbes for asserting that since man in a 'state of nature'…' has no idea of goodness, he must be naturally wicked… he is vidious because he does not know virtue.' On the contrary, Rousseau holds that 'uncorrupted morals' prevail in a 'state of nature'.
Rousseau asserted that the stage of human development associated with what he called 'savages' was the best or optimal in human development, between the less-than-optimal in human development extreme brute of animals on the one hand and the extreme of decadent civilization on the other. One must remember that the bulk of his criticism occurred before Industrial Revolution … he was criticizing the aristocratic society of his day. The perspective of many of today's environmentalists can be traced back to Rousseau who believed that the more man deviated from the state of nature, the worse off he would be. Espousing the belief that all degenerates in man's hands, Rousseau taught that man would be free, wise, and good in the state of nature and that instinct and emotion, when not distorted by the unnatural limitations of civilization, are nature's voices and instructions to the good life. Rousseau's 'noble savage' stands in direct opposition to the men of culture.
Rousseau's view was that morality was not imbued by society, but rather was 'natural' in the sense of 'innate'…it could be seen as an outgrowth from man's instinctive disinclination to witness suffering from which arise emotions of compassion or empathy. These are sentiments shared with animals. These ideas stand in opposition to other philosophers' ideas of innate ideals or 'forms' like the ideas of Plato…who declared that all men and women are born with ideas concerning Truth, Beauty, Justice, Will, and Love…
Rousseau's philosophy concerning society's negative influence on the natural man … centers on its transformation of amour de soi, a positive self-love, into amour-prepre or pride, hubris….Amour de soi represents the instinctive human desire for self-preservation, combined with the human power of reason. In contrast, amour-propre is artificial, imposed upon him by society… and encourages man to compare himself to others, which creates unwarranted fear and allows men to take pleasure in the pain or weakness of others. Individuals have ways to interact with others… and these modes of interaction are raised to the highest level when there is a sense of self, morality, pity, and imagination.
In his Discourse on the Arts and Sciences…Rousseau argues that the arts and sciences have not been beneficial to mankind because they arise not from authentic human needs but rather as a result of pride and vanity. Moreover, the opportunities they create for idleness and luxury have contributed to the corruption of man. He proposed that the progress of knowledge has made governments more powerful and has crushed individual liberty and he concluded that material progress has actually undermined the possibility of true friendship by replacing it with jealousy, fear and suspicion.
In contrast to the optimistic view of other Enlightenment figures, for Rousseau progress has been inimical to the well-being of humanity, that is, unless it can be counteracted by the cultivation of civic morality and duty. Only in civil society can man be ennobled through the use of reason..
There is a Social Contract… As long as that Contract is the proper one…and is in place… then people are not corrupted..
According to Rousseau…differences in wealth and status among families in a primitive band… were minimal. The rise of the great agrarian empires in the Middle East…led to division of labor and abstract dependency upon one another. .. which led to inequality and conflict. Once there was an official ranking of people then there arose competition among people, envy, mimicking, looking to others for person worth.
Rousseau posits that the original deeply flawed Social Contract advocated by Hobbes had led to the agrarian empire and eventually to the modern state, both of which were created by the rich and powerful….who tricked or forced the general population into surrendering their liberties to them and instituted inequality as a fundamental feature. Rousseau's own concept of the Social Contract is a proposed alternative to this.
Rousseau felt that in human society…the desire to have value in the eyes of others eventually undermines personal integrity and authenticity. All people can do is cultivate virtue in themselves and submit to their lawful rulers…A new and equitable Social Contract was needed. Rousseau's Social Contract advocates a legitimate political order within a framework of classical republicanism. According to Rousseau…man left a 'state of nature' which possessed no law or morality…Whichever rules there were…were innate… the product of instinct…which I would say were the product of evolution and actually were quite good and powerful…
Rousseau said that human beings left their natural state for the benefits and necessity of cooperation. What I say happened… was that man and woman created tools and these tools began to shape more and more of their lives until humans became enmeshed in a world of tools …an artificial world of their own making. As humanity combats this artificial, alienated, imprisoned world, Rousseau says that humanity requires a new Social Contract…people must abandon natural rights…if there is a general will of the people with power… then that ensures that people will not be subordinated and they will willingly do what is right because they authored the Contract…I would say No! to this…The fact is at the present time…man and woman's tools are in command …in the next stage..there must be developed two separate worlds…Man, woman… and their tools…must be separated in space…Tools are too ubiquitous and powerful ..the metropolis is able to dictate relationships…
So these were the ideas of a great thinker in France…in Paris…in the 18th century…What does this have to do with terrorism?…The fact is…and it cannot be denied…that Rousseau's ideas were one of the reasons for the French Revolution,…the Reign of Terror…and the constant workings…of the guillotine…
Two Worlds
In Ian McEwan's novel 'Amsterdam (1998), the protagonist, a composer, travels out of his arty west London bubble to confront the other side of modern urban civilization…'square miles of meagre modern houses whose principal purpose was the support of TV aerials and dishes, factories producing worthless junk to be advertised on the televisions, and, in dismal lots, lorries queuing to distribute it, and everywhere else, roads and the tyranny of traffic. It looked like a raucous dinner party the morning after. No one would have wished it this way, but no one had been asked. Nobody planned it, nobody wanted it, but most people had to live in it. To watch it mile after mile, who would have guessed that kindness or the imagination, that Purcell or Britten, Shakespeare or Milton, had ever existed? Occasionally, as the train gathered speed and they swung further away from London, countryside appeared and with it the beginnings of beauty, or the memory of it, until seconds later it dissolved into a river straightened to a concreted sluice or a sudden agricultural wilderness without hedges or trees, and roads, new roads probing endlessly, shamelessly, as though all that mattered was to be elsewhere. As far as the welfare of every other living form on earth was concerned, the human project was not just a failure, it was a mistake from the very beginning.'
This vision of the eventual product of Industrial Revolution is a bit much…but it does not stray too far from the Romantics who warned against the aggressive pursuit of material wealth and power at the expense of the aesthetic and spiritual dimensions of human life…The Romantics in turn were inspired by Rousseau's contention that human beings have become the victims of a system they have themselves created. This largely moral critique of modernity was broadened by writers in countries playing 'catch-up' with the Britain and the U.S….especially by the Germans…
Of course, the conflict between Rousseau's ideas and those of the Enlightenment in general were exacerbated by a miracle…the magnificent achievements made by human beings in the middle and end of the 18th century….The Industrial Revolution occurred in Britain 1760 -1790…The flying shuttle…Macadamization in road building, the Bessemer Process in steel, toy trains, small cottage industries…spread all over Britain..
In France capital remained difficult to raise for commercial ventures…the state remained highly mercantilistic, protectionist, and interventionist in the domestic economy… often setting requirements for production policy and industrial standards, and limiting industries to certain cities….So in the 18th century, Britain led the way with the rise of industry… and France was left largely to sell the goods, the products that were produced in Britain…This led to rich merchants… who one would think would be the primary patrons for the philosophes…but this was not the case….
The response to this industrial development in Britain was two-fold…Of course, the first response was…that all nations sought to emulate this glorious achievement…I mean, after a history of mankind living close to subsistence… now there was the promise that all needs of humanity could be met in the near future…and perhaps even more….people of the world could have all the things they could ever dream of in any quantity desired….This led to a second response…which was two-fold and slightly delayed….first, that it was not going to be simple for other countries to duplicate what Britain was doing, second, the ones who made the initial progress were in an enviable and powerful position to control and hold back the progress of those who might desire to emulate them….All of this led to envy and inevitable frustration in countries on the Continent…and in the end after about one hundred years there arose an empowered ressentiment… because the Dream was not immediately forthcoming…and because envious countries felt that they were in an impotent second class relationship with the elites in Britain, then America …And third…there was a response that might be construed as a sort of sour-grapes sort of development…where those left behind or in a second class position felt that they were not that interested in such a materialistic, science-oriented world anyway…a new world that forgot God and traditional values and culture in a rush for a new world of commodities. ….So …as time passed…after this economic miracle occurred in Britain in the last half of the 18th century….there first arose very quickly bitterness across Europe… and much later violence and destruction…that slowly encompassed the entire world…I mean, right a way…there was death and disruption in France…then in 1848 there were revolutions across Europe…eventually this bitterness and frustration resulted in two World Wars….
.
Two worlds…Industrial Revolution…Terrorism…there is a lot of philosophy to be considered here…if humans are to survive this century…Let us consider some of this theory…because it can lead to a solution….it can lead to hope ….for a future for civilized society….
Man and woman are 'tool-creating' apes. Tools are any objects used by the brain to impact the external world. Other animals use materials that are part of their bodies. The use of these materials is governed for the most part by instinctual, 'hard-wired' constructs in the brain. The use of materials other than bodily parts, however, usually presupposes a flexibility, a capability in a brain beyond that of in-place circuitry. The moment materials other than the body are used…the following must happen for tool creation to be more than a impulsive, fortuitous phenomenon. The use of tools demands that there must be a brain that is able to acknowledge a bodily need…there must be a brain that is able to recognize relationships, however primitive and simple among materials in the external world…there must be a brain that is capable of isolating by accident or later by intention, certain materials which can impact other materials in a predictable manner…such that needs are met…there must be a brain that can remember all of this…remember all that has gone before…all successes, all failures, such that success may be repeated…Finally, there must exist a social structure such that successes in the past may be transmitted to future generations. A few animals may pick up a stick or rock and move or break something….Only humans are able to create tools in a way that expresses the full glory of their minds.
Thus, for humans to create tools…mental processes must be organized such that systems of memory of experience and interconnection of cause and effect…are made to ally with the consciousness' desire for expression of intention and Will. These intellectual systems, patterns of thought…which are culture…are developed methodically with increasing sophistication over time and are in themselves tools. Concepts which may not be related to immediate impact upon the external world…like existentialism and Beethoven…but are of interest to a mind considering the world in general…are interconnections among neurons that are tools…which may be used for entertainment and amusement of the mind…and may not be essential for the survival of the species.
Ideas should not be construed to be ethereal and inconsequential in nature because they are purely mental. Physically, mental systems are developed paths of neuron impulse which could be depicted in three dimensions if all the cells involved were known. Thus, ideas are as physical and as important in substance as the materials outside of the body on which they act. In fact, since such systems are prerequisite to the manipulation of external materials…they may be said to be of even greater importance than physical things you might hold in your hand.
Surely the development of tools, which has occurred in man and woman's past and which is being counted on more and more to produce a bountiful future for them…is primarily a matter of mind…and man and woman would be wise…to concentrate less on the external tools which fill their lives…and concentrate more on the mental tools, the mental creativity which supports, implements, and changes external tools over time.
For example, when it comes to inventions…in the past such miracles were the result of random, accidental acts by individuals working independently. In the future, invention should be the result of residential groups, clusters of people…. working together…utilizing the Internet, which has become a global brain. The building up of knowledge in group idea and creative centers which is shared by all by means of the Internet, and the assault upon problems and intellectual challenges by many groups simultaneously will result in an explosion of inventive creativity. In the future, inventions…that is, the creation of new tools….that is, ideas…powerful ideas will be blossom…into thought-provoking books, 12-tone, gorgeous music, and exciting, colorful, provocative theater and movies.
In the physical evolution of man and woman, their brains became larger and more creative, which led to a development of physical tools created by this larger, more creative mind. Tools do not evolve…they must be developed
…email for the Internet could have been developed in the 1950s…but it took someone to commit his life and all his energy to the task…before it could become the world-wide phenomenon that it is….He became a billionaire…So first comes the idea…and as I said…the idea is most important…But how can that be most important if it takes a lot of energy to transform that idea into a physical thing that can impact the world…Because there is a tremendous incentive to make that final product…Billions of dollars!…whereas the poor sap that came up with the idea…well, he will be long gone when the transformation of idea to thing…is done…But there is a marvelous correction in all of this…The fact is the creation of an idea…a new idea…physiologically somehow is like making a baby…it gives one…it gives a group…great joy and happiness!…that greatly surpasses stupid money!….you know five houses, a Mercedes, and a yacht….
So one doesn't just sit around and wait for tools to evolve….humans must create ideas…and then create a new world…and once the new is created…they must continue to watch and control, protect, consider further changes as time passes …they must preside carefully over what they create.
Man and woman came flying out of a Dark Age…Industrial Revolution has powered this rapid change…Man and woman and their great minds have built a new world …one far grander and more powerful than the Roman Empire that had always stood as the high water mark before. But where has this tremendous development of tools left human beings? When humans were primitive and lived on the land within a small band of people, their bodies were consistent with their natural environment. Industrial Revolution has left them in a world of their own intellectual creation that is becoming highly incompatible with the physiology of their bodies, which are approximately the same as the earliest Homo sapiens 200,000 years ago.
As we have said…man and woman utilize tools that are a part of their anatomy, and they utilize tools developed by their minds. Man and woman's physiological tools are the product of physical evolution, of physical creativity. Man and woman are a relatively recent product of the evolution of living organisms. Charles Darwin has described how the evolution of a species is the result of the struggle between the physiology of a species with its surrounding environment. In the process of evolution, the physiological characteristics of individuals change in response to a change in climate, food sources, or predators. This change in characteristics of individuals occurs because physiological advantages of an individual in a certain environment allow the individual to live long enough to procreate and thereby transmit these favorable traits by genetic means to the next generation. Individuals which lack such a favorable make up will not survive to transmit their genes. In the short run, members of a species struggle to survive. Over the longer run, this struggle for survival yields species best able to cope with their surroundings. The driver of change in all this…supposedly…are mutations in DNA which yield new characteristics which can lead to new species. Then too there is a new consideration…I have found that there is an eighty-five percent chance that every atom possesses consciousness!…If this is true…then one atom can become 'revealed' …it can become an ion and astoundingly be able to use its consciousness to impact the world around it…and each cell in our bodies seems to have one 'revealed' atom in charge of internal activity in a cell…and one in the cell wall…in charge of intercellular activity…But this investigation is in is earliest stages….If it is true…then somehow consciousness is involved…when things evolve…..
In general, evolution has created more complex organisms, equipped with more tools to deal with the environment about them. This is in the face of the fact that 99;9 percent of all living things are one celled. The more tools at the organism's disposal, the less energy per unit of body mass it must expend to conduct its affairs in the world. The more complex an individual is…in its physiological makeup and the more tools it has at its disposal…the more able it is to adjust to changes in its environment, provide food for itself, and defend itself and its offspring from predators. The longer an individual is able to survive…the less energy per unit of body mass that is required over time for the task of reproduction and perpetuation of the species.
A unicellular organism is almost totally at the mercy of its environment. A mammal is more able than a unicellular organism to survive in its environment, because of its mobility and more effective defense mechanisms. Man and woman share the physiological complexity and advantages of other mammals. In general, therefore, evolution has produced a number of organisms that are highly complex in physical and neurological structure and that are highly flexible in adapting to their environment…one of the most admirable of these is the human being.
In addition to physiological tools of the body that have evolved and are utilized by individuals… man and woman have utilized primal social tools which also are the product of physical evolution. The primal band is a social tool that man and woman utilized in a natural state as a result of impulses embedded in the primal brain. The nuclear and extended family, inherited from a long line of progenitor species, was very important among primitive man and woman's social tools. A logical extension of the family was the primal band, which was also inherited from genetic predecessors. We have lost this…in our modern world of glass and steel! The band was usually comprised of individuals of more than one family, was of sufficient size to ward off attackers and capitalize upon economies of scale in processing food, and yet was small enough to allow the individuals to cooperate as a unit. The band was a tool…a product of instinctual behavior…and it was the social organization that primitive man and woman were most at home in.
The production by man and woman's minds of new ideas is intellectual creativity. Man and woman utilize their higher faculties of the mind to create objects that are unique. If one person uses the higher faculties of the brain… that is, he might be able to use inductive abilities to collect perceptions in unique patterns and interrelationships…and then another person might be able to use analytical abilities to probe conceptual interrelationships and reach new conclusions or develop new fundamental theorems and formulae … then these people are working together in a creative process. Thus creation is always a process…It takes two people with different hemispheric dominance in the brain…to produce dramatic results….One person might take the ideas of another at a subsequent time…and claim all the credit…but at least two people are always involved….Such creative thought is not complete, however, until it is implemented by the production of goods in the external world. Thus, intellectual creativity, that is, new ideas….results in cosmic creativity…the production of new objects which can impact…the external world.
In the physical evolution of man and woman, their brains became larger and more creative…which led to what one might see as an evolution of physical tools that were the product of intellectual creativity…It would appear symmetrical and felicitous…that evolution of physical attributes were superseded by an evolution of mental products. As the products of man and woman's mind proliferated and became very powerful…man and woman lived longer relieving the pressure upon them to compete with each other and allow them to cope more easily with their environment…thus they lived longer… and many more people lived long enough to perpetuate their genes….Thus, evolution of man and woman was superseded by an evolution of their tools….
The thing is…as I have said…and I want to emphasize this…An important aspect of all this is lost…if one just merrily states such a seemingly profound hypothesis….the fact is… that tools do not really evolve…they must be developed….That is, if conditions in the world arise that extremely challenge the tools that man and woman possess…the tendency is for people to increase the development of tools incrementally, marginally rather than go for monumental changes that may be required…It is said that necessity is the mother of invention….Man and woman are capable of tremendous strides…but how are they to be motivated to take larger strides when incremental changes are rewarded handsomely monetarily… Corporations have no incentive to make gigantic breakthroughs in technology wherein they have a fiduciary responsibility to their stockholders to maximize profits… which endeavor is usually related to preserving monopolies that they have and products they have successfully branded and blanketed the world with…
Tools of the mind tend to agglomerate…to capitalize upon economies of scale and conservation of energy. Thus, the logic of tools means that factories and houses are organized in large mechanized metropolises where raw materials, factories, and machinery, factors of production, distribution networks, and population are concentrated. All of the urban properties in the United States…reside on only four percent of the land. The tools of man and woman are not physiological tools…they are not organic…they are not alive…still they are utilized in ways that are organic!… If one is in a satellite high above the earth…humans in their metropolises look like molds. This is true because tools and organisms are matter…and all matter obeys the same physical laws. However, there is another reason…the tools are housing an organism…man and woman…so like an anthill…although ants are not sand or dirt…the sand and dirt take certain shapes because the ants are shaping it to be useful for them…so the anthill itself becomes an organism….As I have said, cities are organized and expand like molds. So it is…that cities made of glass and steel…are not organic just because of the laws of physics…or because humans pervade the cement and roads…they are organic because from the vantage point of a satellite high above…they are a type of mold…They are organized and operate in the way they do…for the same reason molds do…to conserve energy…
All of this is a wondrous and astounding thing to behold…I mean, we behold cities from the inside out…from a microscopic viewpoint…then we realize that man and woman have indeed evolved…but their development has acted like an evolution that has gone awry…we have somehow evolved backwards to the earliest stages of life….and we are supposed to be the summit…the apex of all evolutionary processes…that…towards which all life innately should strive?!…
And then we realize to our shock…one more thing…we have not only built this magnificent thing…the city…and so aren't we…wonderful?….But now from our new perspective, we realize that we are literally enmeshed in our tools…we are like parasites living in a mechanism that has its own laws and needs…its own breathing and circulatory patterns…It possesses its own needs for good health that may run counter to our needs….Humans are slaves again…as we have been throughout most of civilization…We are parasites living within…and serving this metallic, glass monster….
Man and woman are left with primitive bodies…in an alien environment created by their minds. The need hippies felt for fresh air and open spaces seems childish today in the face of global warming…Yet the need they felt was real. The Western part of the world has had its experiment during the 50s and 60s with suburban living…the opportunity for such an experiment was provided…was the economic consequence of… very cheap gasoline…25 cents a gallon. This experiment was a failure. The United States was the richest country on earth…it still is…suddenly it appeared that it could give its people the best of all lives…a manor in the countryside…sort of…with its own green acres… sort of… mechanical servants…sort of…a mansion of many rooms…sort of.
The result was a residential hell that the hippies eventually rebelled against… an existence exemplified by an alienated gasoline frenzied continual drive to work, food, shopping, friends, church, and fun. It didn't work. No one was fooled. This was no paradise! Then the century of oil was over. The metropolises are contracting again. It is time to try new things.
Yet this experiment has had other horrendous consequences… Nowadays…global warming is presenting actual detrimental influences upon our bodies and lives…hurricanes, flooding, wild fires… Decades of pollution from commuting cars has taken its toll…Our atmosphere has been transformed from that which was finely tuned somehow to our basic needs…to a polluted, toxic incubator of warmth that threatens man and woman with world-wide inundation…right now…right here…At the same time the ice caps are melting at accelerating rates…such that they no longer exist to reflect the sun's rays…they no longer are frozen continents that keep water and air cooler…All of this is happening simultaneously as our bodies yearn for a surroundings more compatible with our physiology…Our primal physiology…our lives cry out for a habitable world that is quickly disappearing…
One paragraph bears repeating. As humanity combats this artificial, alienated, imprisoned world, Rousseau says that humanity requires a new Social Contract…people must abandon natural rights…if there is a general will of the people with power then that ensures that people will not be subordinated and they will willingly do what is right because they authored the Contract…I would say No! to this…The fact is at the present time…man and woman's tools are in command …in the next stage..there must be developed two separate worlds…Tools are too ubiquitous and powerful ..the metropolis is able to dictate relationships… Humans must work towards… two separate worlds…the world of man and woman…and a world of tools.
There is reason to hope for such a solution…that the basic inconsistency between man and woman's bodies and their tools that has risen in this modern age…will be a short run phenomenon. The machine is here to stay…and must not be disparaged as it is the hope of man and woman for a better life. It seems like a miracle…but it appears that man an woman will perhaps be able to have their cake and eat it, too. Machines are proliferating at an accelerating rate and they are requiring fewer and fewer people to produce a given amount of goods. At the same time, it is probable that man and woman's desire for material things will be somewhat sated in the years ahead…which means that it is probable that in the not too distant future, machines will be able to produce most of what is desired…easily automatically, with few humans involved in the production process.
Hopefully, man and woman will begin…to extricate themselves from the progeny of their minds…from their tools…within a generation or two. We can begin now! Then man and woman will begin…to resume a lifestyle more consistent with their physiology, as humans and machines begin to occupy separate geographical locations…that is, as I say, soon cities will be fully automated and fully connected such that only a handful of people will be able to run an automated city that produces all the goods for a given region. People then will be free to live more with nature and work more creatively in their living pods made from membranes fabricated by DNA. In the meantime, recognition of the fact that the activity within the metropolitan region is a biological activity, should allow a new Science of Man and Woman… placed on a biological base…will lead to investigative procedures and remedial proposals which will be effective in reducing and, in the end, eliminating… the torment of this transitional urban stage in human history.
So it has been…that the greatest miracle in the history of mankind…Industrial Revolution…developed negative aspects in the short… and then the long-run…There was always the basic incompatibility between humans and the products of their minds…There were the appearance and rise of captains of industry who commanded great power and great wealth….as they performed the work that dictatorships would attempt to duplicate in decades after….great deeds were performed…yet great ressentiment within developing nations arose from competitors that were pushed aside by great men…and by the common person who lived in nations with new great spectacles of wealth and wonder…yet were exploited shamelessly with no one seeming to care…
With the appearance of this new world…terrorism as a theory moved from purely ideas… having to do with the quarrel among man and woman's great minds… with the philosophes praise for itts mathematics and Enlightenment…and Rousseau's concern…for humans' bodily needs and the needs of their passions…theory moved on into a new stage…filled with more practical concerns..and the need for action!…for Revolution!…first in France…and its Terror… and then in a separate place…with separate but related concerns…..posited by the German Romantics…
The German Romantics
There were about thirty German Romanticists…a few who were very famous, a few you have heard of…a couple you might have sort of heard of…but most…you were never… ever aware of. Their influence arose in the last half of the 18th century and the first half of the 19th century…At this time…the movements of German idealism were fighting against two aspects of the Enlightenment tradition…At first they were following in the footsteps of Rousseau…fighting the basic optimism of the Enlightenment tradition… Germany was fragmented into hundreds of individual principalities… At the beginning of the 19th century…the Holy Roman Empire of the German Nation consisted of three hundred states and another fifteen hundred minor units, all with different customs, manners and dialects…wherein aristocrats were loath to surrender local power…to any group of intellectuals who might wish to rise and lead the country with reason and Enlightenment. People in general…the bulk of German intellectuals maintained…were happy. Yet right into their face…there was all of this new thinking rising from France!… a hated rival….probably using another side of the brain. So on one side there were all these new ideas which were in a way merely disconcerting.
However on another side, a new concern rose in terms of economic development…I mean, by 1800 there was the reality that there was a new Great Britain…with new industrial power….I mean, England!…I mean, in the year 1000, there were only 3 million people on this miserable island who were not Irish or Scottish…In the development of Europe, Germany had played an important role in history…In the fourteenth century Venice arose to become most powerful in shipping and moving goods from the Far East to Italy and then over the Alps to northern Europe …Then the Portuguese broke the Mediterranean monopoly over trade between East and West…as they now could convey goods by sea from the East to the northern ports in Europe on the North Sea… and Germany with its Hanseatic League of ports…became powerful… Then in the 1600 the Dutch established the first world-wide economic empires…Spain and Portugal's conquest of the New World in the 16th century…resulted in mainly an extractive industry of gold and silver which accelerated trade in Europe but led to no local increase in the production of goods…It was the Germans with their 'putting out system' during the 15th century…and then the Dutch with their windmills and then their empire during the 17th century…that began to replace goods from the East with production of their own…Then there was Industrial Revolution in Britain during the 18th century!…which impressed and surprised everyone…The secret was I hypothesize was that the right hemispheric dominant Anglo-Saxon was conquered by the left hemispheric dominant French from Normandy….two sides of the brain were intrinsically entwined… Well, of course, enterprising Germans felt that they…could do magnificent things again, too…. so a sadness from the loss of important status in the past began to be permeated with new hope…for a brilliant future again…when Germans could be rich and powerful and respected again…In this way, frustration would eventually lead to violence …as sadness slowly became inflamed by possibility…by excitement… All the diverse movements of German Idealism that transformed the world of thought…from Sturm und Drang to Romanticism to the Marxist dialectic…. emerged originally out of this ressentiment and defensive disclaim of isolated German intellectuals… Marxist thought was first conceived in anger at the prospect of bourgeois countries with a powerful navies or behind a repulsive Bonaparte….raping and pillaging economically and militarily…a culturally rich country like Germany…as a result of this prospect…a defensive, thought saturated dialectic, a defensive posture emulating the impressive philosophical landscape of a Georg Hegel…soon became a powerfully theoretical program of its own…for change…and revolution…
Feeling at first threatened…by a science and Enlightenment that a fragmented Germany was unable to participate vigorously in…and then later marginalized by a new powerful and sophisticated socio-economic order… that industrial revolution brought about..as a result of this aggressive rationalism and individualism,…these young Germans started to idealize what they took to be the true Volk,…an organic national community united by a distinctive language, ways of thought, shared traditions, and a collective memory enshrined in folklore and fable. In contrast to the French Rights of Man, and Britain's application of the philosophe's vision of the abstract universal individual equipped with reason… the Germans offered a vision of human beings defined in all their modes of thinking, feeling, and acting by
their membership in a richly adorned cultural community….a community they felt was unique in the world….One might assert that this uniqueness may have been rooted in a right-hemispheric dominance in the brain that stood opposed to he left-hemispheric mathematical logical thought of the French….an opposition that was reconciled…and made a explosive duality in Britain…..In time an elaborate theory evolved of German collective identity and nativist salvation which eventually proved more appealing and useful to these and other latecomers to history… than the Enlightenment's abstract notions of individualist rationalism.
Thus, one thing to keep in mind is that Industrial Revolution in Britain produced two reactions from German intellectuals…and later in other people's thought….each opposed to the other theoretically….yet both stemming from the same exclusion from rapid increases of economic power….First, was the shoving aside of the Brit's accomplishment as brash materialism accompanied by a loss of vital attention to culture…Yet, second…there inevitably arose almost simultaneously the need to emulate…to surpass the forerunners…because of an envy, a ressentiiment… for what power… well, what justice demanded. should be theirs also…Often these two reactions occurred in the same person…one could be declaiming the importance of the increased role of Britain on the international scene…yet at the same time that same person could be calling for the raising of the German Volk perhaps in moral and spiritual ways…which inevitably would raise the Germans to a higher economic level to contest the new leaders of the world….This dual reaction of repulsion, but then also of admiration and the desire to emulate or even surpass…in response to modernity… is still prevalent today with terrorists idolizing a mediaeval past… declaiming the importance of industrial development…development that they themselves obviously would very much like for their own countries….Not surprisingly, it was the multitude of helpless, fragmented, separated Germans in hundreds of provincial towns who responded most ardently to Rousseau's elegant denunciations of Parisian society and celebration of simple folk .
The Rousseau-reading Germans countered the cosmopolitan and the metropolitan ideals of commerce, luxury and urbanity… with Kultur...They claimed that Kultur, the preserve of lowly but profound native burgers, pastors and professors, was a higher achievement than a French Zivilisation built around court society. For Kultur combined the nurturing and education of the individual soul (Bildung) with the growth of national culture. Starting with Johann von Herder and Johann Wolfgang von Goethe, prodigiously talented German literati elaborated, for the first time in history, a national identity founded on aesthetic achievement and spiritual eminence.
In yet another world-repeating pattern, the German myth of the Volk as a treasure chest of profound traditional values, and the opposition between German Kultur and French Zivilisation, was deepened by the disgrace of submission to foreigners…in this case an impotent Germany….by Napoleon….
As Johann Gottlieb Fichte explained…'So that this spirit may gain the freedom to develop itself and grow up to an independent existence …for this reason our blood has been spilt…It is for you [fellow Germans] to give meaning and justification to the sacrifice by elevating this spirit to the world domination for which it has been appointed.' The Volk once cleansed of cosmopolitan left-hemispheric dominant Jews… would return society to primal wholeness ,… It could abolish the intellectual and political antagonisms of modernity, and put an end to alienation and fragmentation.
The simple Volk came to appear to many of these disoriented men the natural guardian of virtues that had been lost among city-dwellers…Weren't the Volk spontaneous, unpretentious and immune to the contagion of modernity? Weren't they opposed to reprehensible, money-grubbing Jews and the effete, sophisticated ruling classes that chased after alien gods? One could exhibit to the world credentials of the avant gard visionary…as he resurrected symbols of German's glorious past and outlined a magnificent world of the future in which the German Volk would triumph in the international racial struggle. Again it is no accident that the psychology of ressentiment, first articulated by Rousseau, was embodied and elaborated by these German outlyers to an European intellectual discussion.
To understand why cosmopolitan civilization based on individual self-interest has turned out to be a perilous experiment rather than a secure accomplishment, and why nationalism remains its inseparable twin, we must turn to Johann Gottfried Herder, one of Rousseau's most influential disciples., Herder while struggling with the Enlightenment's quasi-aristocratic culture and universalist claims, insisted on a showy separatism, based on the idea of a vital German culture rooted in religion and language. The nascent German intelligentsia had been the first to come up against the notion of a sophisticated French culture maintained by an exclusive minority in a superior language…a height of cultural enrichment to which the untutored masses around the world ought to aspire. Herder responded that 'Each nation speaks in the manner it thinks and thinks in the manner it speaks.' Pushing against the French philosophe prescribing his own felicity to all and sundry, he insisted that each nation follow its own organic growth, bringing the human race closer to its ultimate destiny…a world comprised of the fullness of humanity….Herder claimed that each of the world's many nations has a particular character, expressed diversely in its language, literature, religion, traditions, values, institutions and laws, and that history was a process of national self-fulfillment. Communities should be true to their own distinctive way of being, rebuffing foreign imports and migrants.
In Herder's anthology, On German Art and Character (1773), Johann Wolfgang von Goethe attacked 'Frenchmen of all nations' and made France seem a byword for imitative, pseudo-rational thought. The rebellion against the narrow intellectualism of the French Enlightenment, led by Herder, and popularized by the young Goethe and Friedrich Schiller, turned into the movement known as Sturm and Drang, 'stress and strain', the essential precursor of the romantic revolution that transformed the world with its notion of a dynamic subjectivity.
Herder went on to develop a vision of history with a Rousseauian emphasis…An original social setting of simplicity, truthfulness and self-sufficiency had been ruined by luxury and a cosmopolitan culture of insincerity and dubious morality. In place of Sparta, whom Rousseau had championed…Herder invoked the Germanic tribes of what he called 'the North', which preceded and followed the Roman Empire, and created a society marked by social harmony and moral clarity. 'In the patriarch's hut, the humble homestead, or the local community,' he explained, 'people knew and clearly perceived what they talked about, since the way they looked at things, and acted, was through the human heart.' Introducing educated Germans to folk poetry and the cultural values of humble, folk, Herder hoped that a literature emancipated from classical French rules would unleash a national spirit among the politically divided Germans. The French had proclaimed themselves as the heirs of the Roman tradition, So it was up to the art, architecture and poetry of Greece to stimulate a cultural renaissance in Germany.
According to Johann Joachim Winckelmann, the son of a cobbler who became the most famous art historian of his time, 'the only way for us to become great, indeed to become inimitable, if that were possible, is through the imitation of the Greeks'; and, he might have added, the rejection of everything French.
German poems with their gloomily romantic settings and sentimental themes were suspiciously Rousseauian in their exposition of virtues uncorrupted by civilization. According to these lyrical expressions….the human passions lie in some degree concealed behind forms and artificial manners, and the powers of the soul, without an opportunity of exerting themselves… lose their vigor. An organic conception of culture and community arose… one that transcended the hierarchy of class and caste…The German poet seemed to confirm that the lowest of the low could possess the highest values.
Georg Wilhelm Friedrich Hegel said that spiritual reality should be ruled by Thought…what he obviously was referring to …was German Thought….For Immanuel Kant new recognition of the German spirit was proof of mankind's emergence from its self-imposed immaturity…of freedom from the process that had been termed 'Enlightenment'…a world-historical experiment in which man with a new German emphasis…was finally self-determining and free…For the German, reports of atrocities occurring in France seemed to demonstrate that inner freedom and morality were necessary before fundamental political change can take place…
According to Friedrich Schiller, a pioneering German Romantic… the Enlightenment and science had given an 'intellectual education' to man but left undisturbed his 'inner barbarian'… which only art and literature could redeem. Schiller began to make the first of many critiques familiar to us from Marx and Karl Weber of modern commercial society…. its gods of utility and instrumental reason, and its deformations of the inner life. Science, technology, division of labor and specialization, he wrote, had created a society of richer but spiritually impoverished individuals, reducing them to mere 'fragments'…nothing more than the imprint of his occupation or his specialized knowledge…
In Schiller's vision, the Enlightenment's ideology had evolved into the terror of reason, destroying old institutions but also the spiritual integrity of human beings. It was now to be the task of the Romantic generation to shore up the ideal of Bildung against modern society, and its alienation and anomie. Against individual fragmentation and self-maiming, the Romantic ideal of Bildung reaffirmed the value of wholeness, with oneself, others and nature. It was aimed to make the individual feel at home again in his world, instead of seeing it as opposed to himself.
For these Germans, modernism was a social hypocrisy in which the human self repressed its true desires and feelings within a culture of civilized manners They also critiqued specialization, the development of the one at the expense of all the others. The sources of alienation, according to them, lay in the decline of the traditional community…the guilds, corporations and family…and the elite…erased by the competitive marketplace and social contractism, in which individuals pursued their self-interest at the expense of others.
Man and woman were alienated because modern technology enmeshed individuals within machinery… and mechanical physics made nature into an object of mere utility, a vast machine, depriving it of magic, mystery, and beauty. 'Spectres reign where no gods are,' wrote Georg Philipp Friedrich Freher von Hardenberg, otherwise known as Novalis. Modern man, according to him was 'tirelessly engaged in cleansing nature, the earth, human souls, and learning of poetry, rooting out every trace of the sacred, spoiling the memory of all uplifting incidents and people, and stripping trhe world of all bright ornament.' Self-division would be overcome by acting according to the principles of morality by realizing an ideal of community, or what Vladimir Putin calls the 'organic life'….and healing the split from nature with immersion in it…
On the face of it, this was a backward-looking programme. It seemed to bemoan the advent of bourgeois society and Enlightenment, and celebrate the unity and harmony found in classical Greece or the Middle Ages. But there was no going back for the Romantics. The challenge before them was how to achieve the harmony and unity of the past in the future, how to form a society and state… that would provide for community…a source of belonging, identity and security…while also securing rights and freedoms for the individuals without their fragmenting into self-interested atoms.
But as I say….Romanticism was not a mere reaction. It was also a revolution, a thorough and genuine revolution… a revolution against the respectability of the bourgeois temper and against a universal egalitarian ethic…a revolution, above all, against the whole of the mathematic-mechanical spirit of science in western Europe… against a conception of Natural Law which sought to blend utility with morality, against the bare abstraction of a universal and equal humanity.
The entire thrust of the Romantics…was to re-enchant…These men shattered the Enlightenment's notion of a single civilization of universal import,…They offered an idea of civilization as a multiplicity of particular national cultures, all with their own special identity. They expressed a desire for a genuine, thorough-going revolution that would bring freedom and equality to all,…not just a few. They characterized the good life in prospering England as a 'vapid, uninteresting thing'…there was the fear of debility and boredom in such a modern society…they warned against the dangers of spiritual stagnation. They looked to a new spiritual community…they saw the possibility for human progress from the tempering of the scientific or 'positive' of Auguste Comte with the theological and metaphysical… Another Comte…Comte de Saint-Simeon… blended a passion for science and technology with the existing cult of emotion… His disciples were a diverse and prominent lot….consisting of Jews, Indians, and women… The revolutionary feminists were well represented among the followers of Francois Marie Charles Fourier and Saint-Simon. .George Sand was a symbol of the empowerment of women…Marx was a Romanticist in the sense that he felt…that for people to be fully human…to be free of economic and social constraints …one must not simply act as an individual will or ego…with total self-interest…The goal had to be of one united togetherness… and had to be worked towards in progressive stages…
It was in their art that the German Romantics sought to find a new commnal vision to offset the social divisions of economic utilitarianism and individualism. The opposition…to the process inaugurated in the 17th and 18th centuries… whereby man replaces God as the center of existence and becomes the master and possessor of nature by the application of a new science and technology… reached a climax by the middle of the 19th century with Wilhelm Richard Wagner…This composer demonstrated through his work that the artist should and could be the high priest of the nation. He was pan-European, cutting across national and ideological lines. His European eminence signified at least to the Germans…the much-awaited triumph of German spiritual culture over its old materialistic and corrupt bourgeois adversary, the French. Thus, in an indirect way Romanticism came to concern itself with political and social life and with the state. It never developed a program for a modern German state. But with its emphasis on the peculiarity of the German mind, it helped the growth of a consciousness of German uniqueness. In this way Romanticism has helped Germany move towards nationalism and liberalism. By the time of 1848 with its revolutions… nationalism was strong among Germans…but it would take time to unify such extensive and diverse dominions…Germany would finally be united under the calculated guidance of Otto von Bismark in 1871.
Nihilism and the Russians
In the intellectual sphere, the Russians took energy from the German Romantics and carried the ball themselves mid-19th century until World War I…During this time the Russians stressed social facts…the ill-directed energy and posturing of political elites, and the loss of a sense of community and personal identity. The Nihilist movement which arose…was a Russian movement in the 1860s which rejected all authorities. After the assassination of Tsar Alexander I in 1881, the Nihilists were known throughout Europe as proponents of the use of violence in order to bring about political change. The German Romantic emphasis upon national cultural unification and the rise of liberalism in revolutionary conflict thus moved into Russian energy directed towards individual acts of violence and disruption. The Russian peasant commune supposedly was built on a sense of community in church and society…In reality this community aspect of the peasant culture was feaux…in that the major relationships were purely mediaeval between suzerain and peasant…lord protector and the inhabitants of his manor…The only relationship between peasant and state was purely an artificial one for tax purposes…..In Russia the commune supposedly displayed a nationalist cult of sacrifice and martyrdom, with a display of ceremonies and ritual, and an aesthetic longing, directed toward action and danger. The Russians possessed their literature…the nation read the works of their famous and glorious authors…who flourished at a time when literary exiles created a peoples and a nation in an atmosphere of heady freedom.
The Russians like the Germans could represent all those in the world who felt left behind by Britain and the U.S.'s economic and political progress ….They like the Germans could imagine themselves to be the chosen people. of the 20th century….. Nietzsche agreed that the old Russian practices and institutions were failing to respond to the imperatives of development and progress, but he also seemed to amplify a widely felt need for a New Man and New Order…He felt that once a sufficient number of Nietzschean self-overcoming individuals came into being…. the world would become capable of might and unprecedented achievement,…. elevating Russians to a unique position of dignity and respect in the world…The alternative to bourgeois vices was not a particular economic system but a whole new and epic mode of being in the world…
Mikhail Bakunin has always been less well known than Marx and Giuseppe Mazzini, his compatriots in theorizing, conspiracy and intrigue during some long decades of failed revolutions and uprisings in Europe…but it was the Russian who with his notion of unfettered individual freedom anticipated an era beyond street barricades, armed insurrections, the idolatry of the nation state and hedonistic self-fulfillment….He felt that spiritual entropy was induced by democratic societies and their suppression of rich and vigorous individuality…Men everywhere in the 19th century longed,…out of a deep fear of emasculation… .for a new Napoleon,….who would show, as Nietzsche wised, the businessman, the philistine and women their place…. Disgust with bourgeois routines of money,making and the search for distinction, also provoked in the late 19th century artistic manifestos of art for art's sake, and a broad notion of culture devised against anarchy….
Wagner, the econ of German nationalism in Bismarck's Second Reich…evoked heroic myths to restore spiritual wholeness to a society evidently corrupted by materialism. When the 1848 revolutions failed…it was as if there had been a death of God. With God dead or dying, man was free to create his own values… In a valueless universe one needs a theology to replace this with a God of its own..the failure of revolution did as much damage to optimism concerning economic development as Darwinism did to the faith in God…. The quick collapse of the working-class uprising in 1848, and the triumphs of the bourgeois, made historical development seem neither rational nor progressive. Reason did not rule the world, the real was plainly not rational…
1848 led to Nihilism…Europeans were far from facing up squarely to the death of God, and its radical consequences…they had sought to resurrect Christianity in the modern ideals and ideologies of democracy, socialism, nationalism, utilitarianism and materialism…Nietzsche said that Russians at this time…stressing humanitarianism and pity, had embraced the 'slave morality' of the first Christians in Rome.
Pierre Charles Baudelaire started to see in Satan, symbolizing the human capacity for self-destruction, as the only real supernatural presence…. left to honor… Alexander Herzen began to sneer at the naïve people and revolutionary doctrinaires, the unappreciated artists, unsuccessful literary men, students who did not complete their studies, briefless lawyers, actors without talent, persons of great vanity but small capability, with huge pretensions but no perseverance or powers of work…who had tried to make a revolution. Gustave Flaubert immortalized these losers and no-hopers in his greatest novel, Sentimental Education (1869). Nietzsche denominated the mood after 1848…. 'Nihilism' 'What will not be built any more henceforth, and cannot be built any more, is…a society in the old sense of that word…to build that, everything is lacking, above all the material…All of us are no longer material for a society…this is a truth for which the time has come.' Nietzsche denounced these urban weaklings, the banal last men of history, who pursued their pathetic inventions…a bovine happiness…'the earth become small,' he wrote, 'and on it hops the last human being, who makes everything small.' In this shrunken world, mediocrity is the rule…'Each wants the same, each is the same.' What Nietzsche hoped for was the emergence of noble and strong spirits, a new kind of aristocrat… He called for supermen, such as Napoleon… the true anti-Christ whose will to power is uncontaminated by ressentiment and its pseudo-religions, who creatively uses his freedom from false gods and deceptive ideals, and who transcends their fate of passive Nihilism… to become active Nihilists…We need creative clusters today…led by auteurs…creative Übermenchen of the 21st century…Nihilism thus, he felt… was both a dismal fate…and a necessary condition for a new race of free spirits…ones fired with a Promethean zeal, committed to creating a New Man on the ruins of the old, and restarting stalled history with superhuman effort and a kind of perpetuum mobile….the individual rising as a superman to change his condition and that of his nation with supreme acts of violence….Unfortunately the rise of individual terrorism it would seem…led mostly to tearing down the past not working to build a future…
Herzen declared that the pitiless science of economics had triumphed over the universal Declaration of the Rights of Man and of the Citizen. He said that the Western bourgeois is selfishly craven and is capable of rising to heroism only in defense of property, growth, and profit….Western civilization itself was a civilization of a minority…made possible only by the existence of a majority of proletarians;… breeding a cult of power on one side and servility on the other. Bourgeois Europe would live out her miserable days in the twilight of imbecility, in sluggish feelings without convictions… decadence, unbelief and corruption,,,a corruption which has its roots in unbelief …He felt that peasant philosophers have only interpreted the world, in various ways,…the point is to change it.
Herzen felt that other countries have much baggage from the past to abandon… He said…'We do not build, we destroy, we do not proclaim a new revelation, we eliminate the old lies'…He proclaimed that heroic acts of freedom could transform the world from an authoritarian cage… into an arcadia of human freedom…Nihilists he asserted were failing on two accounts…They had to recognize…. that Will leads to creativity leads to tools. They had to start asking ….Where is this modern world going?
Turgenev in his book, Fathers and Sons…defined a Nihilist to be a 'person who does not bow down before authorities of any kind, who does not accept a single principle on faith, however much respect surrounds such a principle…Danger became a principle for action…..A Nihilist prefers an intellectual radicalism that has a near-total absence of political and economic reform and near-total political impotence. Feeling that he has a lack of talent and charm… feeling marginalized by the city…the Nihilist moves towards violence…He becomes the sick, spiteful, and unattractive Underground Man…
In countries where the political system seems capable of delivering justice, the creed of people like Mikhail Bakunin…of all or nothing… is unlikely to take hold…But economic backwardness, weak government, uneven modernization, and a massive gap between the rich and the poor makes Bakunin's ideas potent. There are no coherent ideas to be extracted from his writing of any period, only fire and imagination, violence and poetry. In anticipating disconnected and unrelated figures of terror that threaten the world today… Bakunin was one of the socially derailed and self-exiled figures of the 19th century who could see further than his contemporaries to the waning of developmentalist and collectivist ideologies. …. to a broader scope for the individual will to power, an existential politics and to ever-drastic and coldly lucid ways of making or transcending history. This homeless revolutionary foresaw significantly large parts of the world…our world…where the ideologies of socialism, liberal democracy and nation-building would lose their coherence and appeal, giving way to mobile and dispersed political actors creating violent spectacles on a global stage.
Nietzsche derived from from Fyodor Dostoyevsky's Notes from the Underground his specific understanding of ressentiment, and its malign potential as a particularly noxious form of aggression by the weak against an aloof and inaccessible elite. He felt that one must acknowledge that Life itself is essentially appropriation, injury…concentrating action towards overwhelming of the alien and the weaker…wielding together oppression, hardness, imposition of one's own form upon another… and at least, at its mildest, exploitation. The German sociologist Max Scheler elaborated these 19th century speculations into a systematic theory of ressentiment as a characteristic phenomenon of societies founded on the principle of equality. Its strongest source was the 'existential envy' of rivals and models, the feeling that whispered continually…'I can forgive everything, but not that you are…that you are what you are…that I am not what you are…indeed that I am not you.' Ressentiment was inherent in the structure of societies where formal equality between individuals coexists with massive differences in power, education, status and property ownership. Even those who are mercifully employed and anchored find their subjection to economic necessity harder to bear in a climate where mediating forces and buffers (Churches, guilds, trade unions, local government) between the individual and an impersonal economic order are absent or greatly diminished.
So by the time we get to the year 1900,…Russians have completed the path from ideas…to action and Revolution…until finally we have reached… the alienated individual….Let us retrace this evolution…Rousseau argued that human beings live neither for themselves nor for their country in a commercial society where social value is modeled on monetary value…instead they live for the satisfaction of their vanity, or amour propre...the desire and need to secure recognition from others, to be esteemed by them as much as one esteems oneself…Even the most festive spirit of communality disguises the competitiveness and envy provoked by constant exposure to other people's success and well-being. Facebook today amplifies the feelings of the alienated…the isolated. The Germans were placated for a space of time….with revolution and nationalism…With the Russians, the fury of the individual was silenced only by dictatorship and death…Now this individualistic furor has been released world-wide…As we have said…in the distorted vision of the terrorist…the energy and ambition released by the individual will to power far exceeds the capacity of existing political, social and economic institutions…Most people nowadays have second rate jobs…the calculating faculty…the world of machines… is indifferent to individual lives…People need belief and enchantment.
A great chasm arises between an elite that seizes modernity's choicest fruits while disdaining older truth… and the uprooted masses, who, on finding themselves cheated of the same fruits, recoil into cultural superracism, populism and rancorous brutality. The contradictions and costs of a minority's progress, long suppressed by historical revisionism, blustery denial and aggressive equivocation, have become visible on a planetary scale…
Terrorists encourage the suspicion…potentially lethal among the hundreds of millions of people condemned to superfluousness…that the present order, democratic or authoritarian is built upon force and fraud,…they incite a broader and more apocalyptic mood than we have witnessed before…They also underscore the need for some truly transformative thinking… about both the self and the world.
Creative Clusters and the 21st Century
So things are serious…We simply cannot goof around…We must make some important and significant changes in things….So what are we going to do? Let us begin again…with ideas…
Let us look at the world with its institutions…and see if something can be done to meet the problems of the 21st century, including terrorism.
An institution is a pattern of human activity…a form of behavior, which is utilized repeatedly for the performance of certain tasks. Institutions are often treated as if they are eternal, unchangeable things, almost as if they were created by a god. The fact is…they were created by man and woman and are tools created by the mind…implementing man and woman's Will. Among the tools which man and woman have devised to impact the world about them,, none are more important than the social tools…the institutions…which they have created to facilitate productive work. Institutions are extensions of the concrete person, of the thinking animal, and thus are relative…in that they were developed by human minds to meet the needs of a certain time. As the world changes and the needs of man and woman change, institutions must change also if the work of man and woman is to proceed in the most efficient manner….helping man and woman and not hindering them in their progress.
Most of the social tools, the institutions, utilized by the Western world today…were created during mediaeval times. Although the early part of the Middle Ages has been called the 'Dark Ages'…this period was a very creative, innovative one in which the foundations for the institutions of the Church, Government Bureaucracy, the Corporation, the University, and Marriage and Family….were formed. Since the Middle Ages there has been a tendency for the world to change but for institutions, not….The changes in institutions which have occurred….have been done in an abrupt, discontinuous way….in a laggard and piecemeal fashion….mostly a patch work kind of repair….of the most tenuous kind…and usually have not resulted in changes in the fundamental organization of the institutions….
During the past two hundred and fifty years…changes in the world have been so fast, dramatic, and pervasive that these institutions are now outmoded and large changes or even complete restructuring….are required to meet the needs of a modern age. A technological explosion brought man and woman from the invention of the electric light to a trip to the moon in one hundred years…and left humanity in a world of competition with machines. Institutions created during mediaeval times are becoming more and more helpless as they grapple with the demands of the times.
Until this point in history if changes have needed to be made in institutions, then they could be patched up and continue to be used. However, things are changing quickly. New strategies must be employed… Strategies that are compatible with new ways of doing work that suit this new world… plus are armed…to combat the danger of terrorism. This latter ability would seem to be unlikely….yet now that we understand the theory and philosophy behind the evolution of terrorism, we can see that some things can be done. The thing is….the institutions that exist now except for marriage and family have been very bureaucratic in structure….which is a way to integrate people with machines in a hierarchical manner with human leaders at the top. Bureaucracy is very vulnerable to terrorism…in the urban terrain…and on the battlefield. Now with automation, changes can be made. Instead of corporations, systems of industrial production can be integrated into mechanical, automated cities with a handful of people in control.
So what will people do and what systems of organizations will be best for them to work within? In the examination of the origin of our modern institutions (see my book, Man and the Cosmos…The Science of Everything), it has been found that all started with a small group of people which over time have become elaborated, structured into hierarchical arrays… with people separated like criminals in jail into sections, branches, departments, divisions, and finally into separate corporations. People have been enmeshed within organic metropolises which are shaped and behave like molds…a backwards evolution in species….This configuration has resulted in an alienated, concrete and glass world not compatible with the physiology and psychology of the human animal…Work is stultifying and repetitive.
It is proposed that these institutions be replaced with creative clusters of people with approximately 50 individuals each. Such clusters would be like primal bands… which are most consistent with the human biology of the man and woman ape….This change is beginning now in the San Francisco Bay Area and these small groups of people can grow in number until they spread across the nation and the world….They can be used for research, entertainment, education, government, providing an array of services to meet construction, medical, and other needs. (To see how these groups would be organized and utilized in a total system, see my book…Omicron Blue...which depicts a messianic view for the future). There would be a place for everyone…no one excluded, as Rousseau was by the salons…As we have seen most terrorism results from people who really desire to have an impact and change the world….Creativity renders the greatest rewards for work of joy and happiness…with the greatest opportunities and ability to produce change, impact, innovations. This should reduce the pressure for people to become terrorists.
My selection of the band as the organization of choice for the future was not based purely on abstract theory….It was also based on personal experience with primitive band organization…..First, as one of the youngest Eagle Scouts in Boy Scout history…I was Senior Patrol Leader of my troop for one and three quarters years during my three year tenure., during which time we did not merely attend regional 'camporees'…we won first place in competitions at them……Second, as Vice President of the newly formed U.C. Davis chapter of Sigma Phi Epsilon, I led a charge in 1964, with my cabinet of eight brothers, utilizing principles for developing underdeveloped countries, we fought our way from last place among the fraternities on campus…to placement in the top three in eight important activities in campus-wide competition….Third, as an economist with the Army Corps of Engineers, I was the first non-engineer to be in charge of engineering planning projects, utilizing what was called 'matrix' management, wherein group attack with specialists from five disciplines was used to planned and designed complicated flood control projects….and last, working with fifty kids I found wandering the streets in Oakley, California…when they should have been in school….they divided up into seven groups, created their own Facebook back in 1999 when they filled 'rooms' on their website with creations of all sorts to share among themselves, with family and friends…and ultimately, with recognition and response from the new and growing urban community they were part of…. they created their own Youtube back in 2000 when I gave them tape recorders with which they created collages of music and skits….and then one day one leader grabbed his parents' camcorder…and the rest is history…This last experience was not just an experiment in group creativity, but also one in education…as kids wandering the streets, all went back to school, graduated, and most ended up attending college of some sort….one girl has won poetry contests in the West….
So what would these creative clusters look like…well, one prototype is presented in the book, Miyazakiworld, by Susan Kapier…wherein the creative group formed by the famous animator, Hayao Miyazaki is described….Well, his cluster is actually a corporation…of the old world type… it would seem…but not!…This man has taken a group of talented people and who work together like a family…
Profit was never important to this family…There is only courage, acceptance, and joy at the emotional core of Miyakiworld…it possesses a surprisingly nuanced vision of technology, humanity, and nature. Miyazaki was born into war-torn Japan…thus he is sensitive to technological and environmental catastrophe….In his world, on the screen…. it is often females who lead us through the end times….Children also contribute in a major way. With nostalgia come darker themes of exile, loss, and trauma the yearning for home…scenes of flight through translucent blue skies or underwater glimpses of a surreal sea domain to a far future toxic jungle or a fourteenth-century forest inhabited by gods…all of these are alternatives to what he deems to be an increasingly oppressive reality.. Miyazaki possesses a strong antiwar stance…and is very much aware of what is currently happening with global climate change… In his movies, children are leading the way….Children display wisdom….declaring time and again the stupidity of war and constantly show through their actions …that you have to work really, really hard to accomplish anything!
Miyazaki's world shows how a new world can emerge using a cluster concept…in a field in which persons of frightening talent and energy have in the past been buried by the goal of corporation profit….His world lives as a family ….but is also constantly immersed in nature….They love to travel at home in Japan….or in Europe on bicycle….They own suburb residences and working places…but also a mountain cabin..They address the needs of anguished individuals confronting the stresses and terrors of modernity…
As I say….there are many female members in the group…Miyazaki shows how creative clusters can have an auteur or several great minds in charge…in this case the director has left-wing sympathies…however, such groups can display all beliefs…They can fight for ideals, political causes…in their case, their world is fighting against the sacrifice of traditional institutions and customs and replacing them with Western ones….In one movie..a girl is determined to be a doctor…a decidedly modern female empowering touch….After the war, Japaneses felt powerless…Well, the Japanese nation has shown that it can rebuild itself…and now with the power of fantasy…the power of child-like creativity… and the family orientation of a creative cluster…Miyazakiworld has proven that it can help humanity to continue to move forward…. when most other things…appear to be less capable…
Miyazaki values the virtues of perseverance…toward personal goals…towards group goals… not corporate deadlines….With displays of perseverance, endurance, and acceptance…Miyazaki's creative cluster does provide an ideal prototype…with an auteur…and all of that it embraces with its conception of 'home'…. of family….all that it displays in its collaborative creativity…
Miyaki feels that the whole world is under a curse…suffocated by both spiritual and environmental pollution…In his movies there is a realm of spirits found in rocks, waterfalls, mountains, and trees…this animistic cultural consciousness has for centuries explicitly emphasized the deep connections among humans, other species and even natural forces. Money is no longer a god…Miyazaki's world is aware of life's fleetingness…the sadness of things of a beauty based on transience…As in my career, Miyazaki has taken his time hopped around…tried many things…It has taken 55 years for some of my ideas to be developed …many were ahead of their time….It is typical in creative clusters for interests to be wide ranging….this welcomes input from many directions…Miyazaki majored in poliitcs and economics…
There is magic permeating this world. Constantly there are things like a garden of heaven with waterfalls…there was a garden in Miyazaki's childhood with a pond… with secret magic confronting personal and community loss….with community dealing with absence, and resuscitation in the face of ruin….His world has not found the path easily….trade offs between the good and bad yield compromises which make both work….His world demonstrates, exudes enthusiastic and hardworking autonomy and power… yet there are compromises… Yes, war is bad …but one must respect destructive power…Power is important to getting things done…and for Miyazaki creativity is most powerful…it allows his protagonists…who are often young girls and children…purity and innocence….to accomplish much….Because of this, he feels that it is important that children not be devoured by parents….He emphasizes the joy of life and movement…the joy….the new joy of making an impact…accomplishing much more…and of higher quality without bureaucracy….How to come up with ideas in an iterative way…like the Beatles did…You have an idea, which brings forth an idea and response from me…which reminds you of something else…..His cluster is of villagers who work and play while euphorically singing Eastern European folk songs as they roll ideas along in an iterative fashion…Yes, he has found that as you roll ideas along…they gradually get bigger… His group is burning with idealism..it is .resilient and adventurous. ..In his vision young girls move mountains…and mountain backgrounds are ravishing…. Every where there is green… beauty… villagers, fishing, planting, and celebrating…. with strong female characters often leading the way. Water plays a major role in his vision….humans finally resolve their differences and work together in the future.. ..There is isolation and power…destruction and re-creation… His characters exhibit exuberant energy…They run, swim, somersault, climb, hug, fight….All of this can be displayed by one character….Is this not the essence of creativity?…And music!…music can help carry a message…yet can it not be the message itself?… Music can become a beacon of beauty, grace, and civilization ….in what at times can seem to be a corrupt and violent world.
At the base of some characters swirls a rage toward the machinery of society that suffocates humanity…and then they confront weaknesses in themselves…they try to bury the falseness of their heart…of their innate modesty, bogus lack of confidence… by stirring themselves to action… Miyazaki is fighting to give life meaning…and his movies yearn for people who can lead the world in that fight…Are we all not a generation characterized by our elders as apathetic and materialistic… lacking in ideological commitment or willingness to sacrifice, Miyazaki's parents were particularly disappointed in him….And he is a believer in sixties activism! He feels righteous fury against a society that suffocates humanity….His contempt for wealth and its trappings are shown in one animated vision where a hero is caught caught up in cogs….like Charlie Chaplin's famous struggle wherein he was ensnared by the literal 'cogs' of industrial society….Yes, technology has given some of us all we could ever want….for some, way too much….Still there can be a world apart….one where humanity may create for themselves….a brilliant future…
Miyazaki is constantly sharing food with his group…His hero…well, she is all embracing, not only toward her fellow humans but toward animals, insects, and even strange and prolific vegetation… Hers is a rich and nuanced love,…that of a grateful denizen of a large and multifaceted world, a stance that seems like Miyaki's vision…when he formed his creative…and amazing family….
Creative Clusters and Terrorism
Now that we see that terrorism has at its roots a theory, a philosophy..
we can look for ways that it may be combated in the future….But even more….when we see parts of our cities go up in flames…as we have seen happening across the U.S. recently…is there anything we have encountered in this minibook so far…that can combat violence of the mob…as well as the violence…of the individual?
When I read Mishra's book a second time…starting very skeptically… and ending up very much convinced…of his thesis….one thing I could see is that many of the ideas I had addressed as I was updating my book, Omicron Blue… during the past five years…about how creative clusters could help build a better world…I could see how the strengths of this little institution dove-tailed with what could be part of a remedy for terrorism….The availability of these small groups….of creative people….could help address the needs, the passion, fear, ressentiment, alienation, the desire to create a better world,…felt by Rousseau, the Romantics, the Nihilists…that is, by people susceptible to mob violence, to revolution…to individual violence…to terrorism.. I could see how this little piece of institution…one little bit of strategy…could cut terrorism off…at the roots..
Let us start at the beginning…what do we mean by a primitive band?…After all this is the primal, biological, innate, social institution we are emulating. Well, for millions of years hominids spread across the earth in bands very like those of the great apes….However, 200,000 years ago Homo sapiens emerged….and when this species spread across the earth it had a more elaborate organization…remnants of that structure can be seen today…Native Americans still display the characteristic features of band, tribe, nation organization of stone-aged peoples…..So when talks of a creative cluster or band…we are also talking about how these clusters can be organized to gain power and ability by combining with each other…in a momentary or more permanent way…
At first the clusters will be in residences probably in suburbs where commuters are now moving away from towards the center of metropolitan areas…leaving structures that can be bought or rented cheaply…Creative groups can occupy larger houses with rooms for creative dance, art, music,
collaborative work at computers…they may occupy contiguous residences like fraternities often do…and these can be called 'the house'…where organization is centralized and directed…then there can be members 'out of the house'…located elsewhere but who are in constant communication and interaction with the rest of the group….It is important that they have almost daily physical contact for eating or other activities….there should be an official sort of group meeting once a month…in a structured setting where group business can be conducted…
However, these creative clusters will have abilities, potentialities that fraternities don't have…they can be allied with other clusters in transitory or more permanent ways…to conduct large projects together…put on tribal fairs and programs…Each group is free to select the people they want…embodying the ideals, characteristics, and dispositions…there is a place for everyone…
Now some of these groups will be more successful in obtaining remunerative work than others…and this is where tribal influence, if we may say this, can come into play…if some groups are more racist, sexist, or display other characteristics that most groups are dismayed about…then these groups get less work…less money…to supplement the day jobs that most members will have have to begin with….The groups will give a sense of belonging to everyone…so there should be fewer alienated and angry people…each will have creative satisfying work to do…bands can work in tribal combinations to promote political stances and advocate solutions for community problems at every level…country, state, and country….people will no longer be isolated powerless individuals lost in oceans of subdivisions…If members of certain groups cause problems…tribes can emerge…and coordinating with local governmental officials and police…they will be able to contain, control, get to the roots of disturbances….and bring peace…
These are some of the characteristics, capabilities, and strengths that band, tribal, nation organizations have displayed through the eons in the past…
Now let us look at some of the specific causes for ressentiment, revolution, and terrorism…that Mishra's book itemizes… and let us see how creative clusters can address them.
As Mishra said…it all starts with Rousseau…I mean, in general in the case of individual countries moving, attempting to move…from the past to the future…it must begin with ideas in each case…then progress to revolution and creating a new government that will take those ideas and create a new world…and if that attempt to build a new future is frustrated…then the individual feels that all the burden is on him…or her…and terrorism arises…This sequence of events which has been seen in various countries…time after time…has been followed one level up…in Europe generally…from the ideas of the philosophes…to the revolution of the Germans' striving for nationalism…to the frustration of the Russians…which did produce revolution…but somehow seems so violent a final outcome that it is as if a group of terrorists still remains…that is attempting to consolidate a frustrated people with a lack of resources into one country….And now the Chinese are attempting… very successfully it would seem…to 'take off' and create their own Industrial Revolution…We can see that when dictatorship is required to keep things together…somehow….terrorism is always one arm's length away….A country is not truly stable, in equilibrium and peace…until the voice of dissension can be addressed by democracy in a systematic, definitive manner…utilizing the rule of law…..
So we start with Rousseau….The salons and the academies in France in the latter part of the 18th century….presented a height of cultural enrichment to which the untutored masses around the world were taught that they ought to aspire to be admitted…a wish that for most could never be fulfilled. In the 21st century the Internet offers an alternative intellectual sphere….and creative clusters offer the creative opportunities and little creative societies that intelligent people seek…and there will be a place…for everyone…
There has always been the idealized image of France in the late 18th century…as the home of the worldly, elegant and sensuous philosopher, who spoke a language of unparalleled clarity and precision. Elite vs Volk civility and refinement vs creativity…In the 21st century most people do not want to be intellectual…They are looking for friendship and cooperative interaction…. like a fraternity….wherein, withinwhich each person does what he or she can do best…to contribute as he or she is able….There is specialization and diversity…A person might jump in and help in activities he is not proficient in…Herder asserted that French lacks what German has..whatever that might have been…In the 21st century creative groups of people need the abilities of both sides of the brain…they require every kind of ability…Herder claimed that the French only want to destroy everything that exists and to create everywhere…a void…in which they can reproduce their own image and never anything else…One could do no better than look to Miyazaki… to find and enshrine an uniquely cluster spirit….where all abilities are respected and utilized…In the 21st century hopefully this will be accomplished without promiscuous sex and drugs.
When it came to the German Romantics….Herder was driven by a vague unrest that sought another world,…one he never found…In his country of hundreds of tiny 'nations'…it was imperative to diminish a sense of inadequacy …One must have felt the need to somehow gain superiority…As Mishra says…Such a posture never ceases to be conflicted and contradictory, while presuming to bring peace and harmony,,,.In the 21st century it is better to focus on creativity….Creativity, if the wrong path is taken, can lead to feelings of superiority and hubris….yet creativity produces so many astonishing results…It generates new ideas…it can help create a new world. It imparts joy and happiness for all involved regardless of the strengths each might have…In so doing it eliminates an atmosphere of elitism…It is where all can join, belong, be family….work together….impact the world together….and all derive great benefits from this united ieffort…
As was said…according to Johann Joachim Winckelmann, the son of a cobbler who became the most famous art historian of his time, 'the only way for a people like the Germans… to become great… indeed to become inimitable,..if such a thing is possible, is through the imitation of the Greeks'; and, he might have added, the rejection of everything French. In the 21st century people in creative clusters should not be worried about being like others… impressing others….Each cluster will have its own mountain to climb… and its best work will be appreciated….Culture and scholarship will bloom…and prosper…and impact the world…
Contrary to the French philosophe prescribing his own Enlightenment felicity as the cure for every ill…Herder insisted that each nation must follow its own organic growth, bringing the human race closer to its ultimate destiny….the fullness of humanity….In the 21st century, in creative clusters of fifty-some people..members can provide a rainbow of abilities and interests…Each will be free to combine as he or she desires…to follow his or her own path to creating a better world….In a way a cluster can emulate Herder's desire for individual focus…each cluster can gather the people it wants, believe what it wants, have its own myths, its own mountain…to climb…
German poems with their gloomily romantic settings and sentimental themes were suspiciously Rousseauian in their exposition of virtues uncorrupted by civilization. In the pre-Industrial Revolution world…. the human passions lay in some degree concealed behind forms, and artificial manners, and the powers of the soul, without an opportunity of exerting them, lost their vigor. The German poets were developing an organic conception of culture and community, one that transcended the hierarchy of class and caste…The German poet seemed to confirm that the lowest of the low could possess the highest values. Creative clusters welcome people of all abilities and interests…and clusters with different strengths and interests can combine for certain lengths of time…to work together on certain projects….There will be work for all….for genius and normal people…just like a primitive band…
Against individual fragmentation and self-maiming….vices which were arising in a new world of greed and materialism,….the Romantic ideal of Bildung reaffirmed the value of wholeness, with oneself, others and Nature. It was aimed to make the individual feel at home again in his world, instead of seeing it as opposed to himself…as being something to be objectified and exploited. Self-division would be overcome by acting according to the principles of morality by realizing an ideal of community, or what some have called the 'organic life'….and healing the split from nature with immersion in it….In the 21st century, humanity will be extracted from the glass and metal organism of the metropolis and allowed to return to the land in an environment and in groups that are most compatible with their physiology and psychology.
Nationalism has in the past been almost entirely a product of the man of letters…The best interests of a group of people lies in transcending sectarian interests and unifying, preferably under their command of that same group of intellectuals….they transformed their spirit of personal identity and dignity into a chivalrous defense of what they saw as collective identity and dignity…Creative clusters will be the same…they will be united by the leadership and vision of their auteur or auteurs…and by the agreed on emphasis of the people in the cluster…
The Russians…are worth studying in depth….for they have always seemed to be a country of terrorists….working together….for the moment. The only force keeping the nation together is dictatorship…force…violence versus violence…It is in an environment such as this…where the violence of the terrorist…may strike at any moment…that creative clusters must do their best work…We have already considered how clusters and tribal configurations of creative clusters can combat the rise of individual acts of violence.
The Russians today…like the Germans before Bismarck and the world wars… could represent all those in the world all around the world…who feel left behind by Britain and the U.S.'s economic and political progress …and now Europe in general, and the Chinese are blasting out at full throttle….But there are those still very much behind…They, like the Germans in the early 18th century… can utilize various means to engender, to imagine themselves to be the chosen people of the 21th century…..and use such a self-centered unification of strength and spirit to help start change in their countries…..In the 21st century…creative clusters will need to feel special…. utilizing myths that they concoct to validate their rise in creative power backed up with evidence of same within world competition with their displays of work in Creative Centers across the land…just as communities did in country amd state fairs and national exhibitions in the past….Without the destructive forces of war and violence, creative clusters emerging in developing countries …..can offer citizens a chance to be self-sacrificing patriots…a chance to contribute ideas and energy…to the emergence of a Young China, Young Turkey, a Young India….to a Young 21st Century…
The Russians possessed their literature…the nation read the works of their famous and glorious authors…who flourished at a time when literary exiles like Dostoevsky and Turgenev created a peoples and a nation on the page in an atmosphere of heady freedom. In the 21st century creative clusters working with universities, government, and industry…will offer breakthroughs which shall contribute to building a new world during this century….
The French Revolution had helped entrench an arid bourgeois individualism…with its cold doctrine of rights, its last formula of individualism…which had degenerating into sheer materialism… Joseph Conrad's Kurtz in Heart of Darkness was the representative of a progressive, civilizing Europe, who dies whispering 'The horror! The horror!' ….aghast at the savagery caused by his own insatiable need for novel experiences….for relief of the monotony of a life without creativity…..The Nihilists said that in history we come always to the same sad conclusion… the rule of the great masses of the people by a privileged minority….In the 21st century, the creative cluster is the cure…the cure is not revolution or rule by a technocracy….Human dignity in nations and peoples manifests itself only in the instinct of freedom, in the hatred of oppression, and by the force of revolting against everything that has the character of exploitation and domination in the world….In the future, if there are not creative clusters… then the temptation for violence will be too great…People are losing fatih in society being able to solve problems..for the Nihilist….all falls upon drastic actions of the individual..
The Russian showed how the individual can find fulfillment in surrendering his or her immediate interests to the well-being of the nation….Creative clusters are able to contribute to a spirit of self-sacrifice without having to sacrifice lives in needless violence and warfare…, by bringing into existence an evolutionary, democratic process which will be able to help build the 21st century and bring forth a new world…to replace a century of cheap oil. Just before World War II…Italy was able to display a prototype for a new powerful unity for backwards nations of Europe….In the 20th century unity came with the ideas of God, one people, the republic …ideas which demanded submission rather than cogitation…In the 21st century…ideas themselves are the answer…creativity will be the basis for unity generated by creative clusters acting in concert to build a future for the countries they are within. Just as nations showed the world that they could be a variety of possibilities…they could be monarchist as well as colonialist, pagan and Catholic…creative clusters will display an array of potentialities…However liberal or cosmopolitan Giuseppe Mazzini's nationalism was in theory…. it left a large space for Utopian fantasy of both the left and the right…in the same way, in the 21st century, creative clusters will each be different…each displaying the mark of the auteur or auteurs who are their leaders…as well as their committed personnel….Mussolini showed the importance of myth in revolutionary processes..and the creative clusters will create their own myths which will allow them to inevitably come to feel, as Germans did with their infatuation with the Volk in the second half of the 19th century….which allowed them to give vent to widespread feelings of frustration…
Yes, the Nihilists felt that heroic acts of freedom could transform the world from an authoritarian cage into an arcadia of human freedom….but the fact is…just tearing down the past…is not working to build a future…As Nietzsche saw…Russian Nihilist philosophers had only interpreted the world…criticized the world… in various ways… the point is to change it. This is what creative clusters…are designed…to do…Culture, art…if it is of the highest, greatest kind…will change the listener, the viewer…it will change the world…almost by definition! And Creativity is why clusters will exist… Nietzsche felt that once a sufficient number of supermen, self-overcoming individuals come into being, the world will become capable of might and unprecedented achievement, elevating all to a unique position of dignity and respect in the world. Yes, we need leaders…great men and women working with creative groups to change the world….great people who are auteurs….The truth is… Will leads to creativity… leads to tools…creativity looks to the past for wisdom,….it uses this wisdom to project where this modern world is going. Then creative clusters…can take action!
Russian anarchists showed how the handling of money will important to creative clusters…There will need to be donors to sustain progress…For the Russians…failure to be sustainable in groups…led to violence…Creative clusters will not fail…everyone will have 'day' jobs to begin with… and just working, creating together will lead to joy and happiness and psychological success…that is, the need for violence will never occur to people busily working within family-like groups with local and regional entities…wherein creativity is appreciated…and generated constantly…
The Russians showed that if you are missing a messianic passion there will come the inevitable collapse…The creative clusters will be working for a new world…free of pollution and global threat from economic externalities .. .and helping to develop the entire world with ten times as much energy and generating rivers of food from new sources using oceans, for example, as a place for agriculture. In this way, creative clusters will allow a world to emerge which can simultaneously build the future… and put an end to terrorism…When it comes to the last problem… the young Germans who had grown up after unification under Bismarck…felt a deeper hatred of a cosmopolitan class of bankers, industrialists and land lords who seemed to be supervising a sham parliamentary democracy, representing only themselves ….The Germans critiqued the leveling effects of modernity with an explicitly aesthetic ideology, and Wagner had constructed the first great spectacles in art….Creative clusters of course will develop new ideas and they can create their own music…revolutionary music with 12-tone scales…which can produce theater, spectacles, which can attract attention and disseminate their ideas…
Creative clusters can confront a loathing of liberal-bourgeois civilization that had first intensified all through the 19 century…They do not have to .have a hyper-masculine dream of grandeur, heroism, self-sacrifice, power and conquest…the marital virtues too often displayed by self-seeking liberal-bourgeois individualists…..trampling to dust the liberal Enlightenment assumption that rationally self-interested individuals would use science and moral self-control to create a good society….Rationality and science within competing nations seems to lead to efficient and automated death and destruction….Clusters will use science and reason to create the new…with its own psychic rewards of joy and happiness….They will combine the talents of creative people together… until critical mas is reached….resulting in creative explosions. With a country filled with creative clusters there will be strategies to reduce racism, sexism, and use of drugs…Instead of war, and exploitation by corporations…there will arise a symbiosis….between two worlds…man, woman…and the machine…'nations' of creative clusters working in harmony with mechanized cities and their need for new ideas from the creative clusters….Man, woman… and machine…separated…working in their own worlds…they can efficiently work together..
Artists like Gustave Flaucbert and Charles Baudelaire had long been railing against the bourgeois cults of humanitarian progress and spinning dreams of virility…They persuaded Nietzsche to accept the descent into the abyss as the only antidote to the tedium and soullessness of life with the conventionally enlightened bourgeois…a bourgeois life yields nothing more than the imprint of one's occupation or his specialized knowledge….mere 'fragments' of lives….In response to this goading….Nietzsche responded with his idea of the Übermensch… the superman, who embodied the Will to Power and the morality of war…which eventually led to two world wars….Creative clusters say No!… to all of this…No more boredom from routinized work…Clusters say No!…to violence war, sex, drugs…Instead they say Yes! …to creativity…Creative clusters say… Yes! to New Man, New Woman… New Order… New U.S.A….. New World!
Educated Russians like Herzen first formulated their revolutionary ideologies in the great intermediate ground between serene elites and mute masses. This is from where militants emerge..the creative cluster is a solution for everybody….Creative clusters are the answer to lost faith in the future…they have no need of the new deity…. the ideal of perpetual growth of production and consumption… they have no need for a belief in progress necessary in a Godless world….The world has never seen a greater accumulation of wealth, or a more extensive escape from material deprivation. But its opportunities are unequally distributed…half of the world's income growth between 1988 and 2011 was appropriated by the richest tenth of humanity…and even in rich countries, there is a growing life-expectancy gap between classes….Creative clusters take us from a world of dreams…bad dreams…with good dreams available only for the few…Without creative clusters…the lure of active Nihilism can only grow.
So where do we go from here? The key is…creativity is able to replace alienation….It is not enough to be merely a part of society…our I …our Will..says No!…we can be more! We are more!…We must have ability to assert ourselves…to impact the world…to create the 21st century! The creative cluster gives us the power…that we require.
From its inception in the Enlightenment, the modern world was driven, and defined, by the self-affirming autonomous individual who, condemned to be free, continually opened up new possibilities for human master-slave empowerment…This modern world would lead to freedom from prejudice, superstition and the belief in God, and into the safety of reason, science and commerce. Since then, freedom has been synonymous with the developing natural sciences, new artistic forms, free trade and increasingly democratic civil society and political institutions.
In our time, however, a brutish struggle for existence and recognition has come to define individual as well as geopolitical relations across the world. In the regime of privatization, commodification, deregulation and militarization, it is barely possible to speak without inviting sarcasm about those qualities that distinguish human from other predatory animals….like trust, co-operation, community, dialogue and solidarity.
But there are too many men in the world who are angry…. especially in emerging economies, their number expanded by the mass disillusion and disorientation caused by increasingly unequal and unstable economies, and
rising expectations…And everyone, everywhere, seems to suffer from what Albert Camus defined as 'an autointoxication, the malignant secretion of one's preconceived impotence inside the enclosure of the self'….Camus, among many other writers and thinkers, saw resentiment as a defining feature of the modern world where individual dissatisfaction with the actually available degree of freedom constantly collides with elaborate theories and promises of individual freedom and empowerment.
Ressentiment is inherent in the structure of societies where formal equality between individuals coexists with massive differences in power, education, status and property ownership. Clusters replace all the bureaucratic buffers that existed before….replaces them with real relationships …with real possibility for contribution and change…
As was said…Nihilism was both a dismal fate…and a necessary condition for a new race of free spirits…fired with a Promethean zeal, committed to creating a New man on the ruins of the old, and restarting stalled history with superhuman effort and a kind of perpetuum mobile….but unfortunately most of this represented only a tearing down of the past…. There were no constructive ideas of how to work towards….how to build a future….Creative clusters are most interested in two concepts..First…Will leads to creativity…which leads to tools…Second…Where is the modern world going?
Conclusion
So this final section of this minibook…is about you!…You can do it!…
You have friends that you talk constantly with…as a group you have ideas… you have frustrations…It is time for you to act…and the action is very simple…you decide as a group…to be a cluster…meet regularly…come up with group ideas…and then work with government officials, with local social clubs…in the San Francisco Bay Area there is the Commonwealth Club as well as the local business clubs where one can make presentations of your ideas…and listen to the ideas of others…and Action can be taken! Building the 21st century will not be easy…and leaders are looking for help…help with ideas, help with implementing ideas…and creative clusters will provide a neighborhood force…a power that never existed before… to bring constructive change…
In the 21str century, creative clusters will not be agricultural communes or residential shelters for the homeless…although these are admirable activities….Creative clusters are indeed a sort of last hope…Unlike Impressionist or Cubists… the Futurists were political artists….These creative clusters are not garden clubs…They will exist to create the new….They are by nature…political…They must be….to help build the future….If clusters do not arise…if the strategy does not work…there will be riots and violence… and war probably will be inevitable…The world will be taken over by the strong… which will be the last stage before civilization itself collapses…
In the 21st century it is now recognized that creativity itself is a positive thing…rendering joy and happiness to those who come up with innovative ideas. Thus creative clusters can derive momentum and power from acts of creativity themselves… which physiologically and psychologically generate joy and happiness which should eliminate any feelings of frustration. These creative groups will be able to have their our own science and will be able to generate their own income from their ideas which can lead to profitable startups… supplemented by day jobs…The value of messianic goals for development ideologies that were pioneered by the German Romantics…as embellished with a pseudo-scientific gloss by Positivism… can be appreciated by and utilized by these creative clusters…who will have their own Science of Everything…and a new Scientific Method….This new science is created by placing the social sciences on a biological base…which makes the science of
man and woman compatible with the findings and methodologies of the physical and biological sciences….As for a new Scientific Method….progress in all sciences has been slowed by the absence of instruments that can measure things that move very fast…or are very small….With a new Science of Everything.. .all the sciences can talk and work with each other….a problem can be approached from several disciplines at once….which can increase the probability of something being true to close to 90 percent…which may be high enough to call forth experiments which could take science to the next step… which can lead to new startups…
So cities are burning!…How will creative clusters help? Well, first, one must realize that clusters can form in places where isolation and fear exist now….In the schools!…The class of 2021 can actually be a creative cluster with its own web site, kids can learn at home and still be part of a small society…as a group they can protest global warming…Kids can…change the world!…But in all of this one must not forget the inner city…Yes, everyone has his and her power phone and all…but if there is no Internet access…we have isolated individuals… alone…ripe for violence…..
In the 21st century, creative clusters once started …can spread like lava across our nation and then around the world …with continually growing legions of people dedicated not to agricultural pursuits this time….but to creativity itself…committed to the growing of ideas, instead of fruit and vegetables….And it could be…that people elsewhere will start this new wave of energy in their own ways….Yes, you, in the Ukraine, Germany, Italy!…You, yourselves can do this!….You will be among the first…to rise above beyond a century of oil…and with creativity as your power…You will begin to build the new…a new place where you can live with friends and family…work, create,..fight peacefully for change… and dream together…In so doing you will reap rewards most unexpected…the supreme rewards…of joy and happiness!
THE END
Bibliography
For a detailed depiction of how creative clusters can be assembled , what their constituent parts might look like, how they would operate, and how they can conjure their creative magic…see my book, Omicron Blue….
available on Amazon…for pretty much the cost of production and delivery…
Invaluable resource materials.
The Age of Anger, by Pankaz Mishra
https://en.wikipedia.org/wiki/Economic_History_of_France
https://en.wikipedia.org/wiki/German_Romanticism
https://en.wikipedia.org/wiki/Jean-Jacques_Rousseau
https://en.wikipedia.org/wiki/Paris_in_the_18th_century
https://sites.google.com/a/wisc.edu/ils202fall1.1/home/student-wiki/group4
www.amazon.com/Patrons-Enlightenment-Edward-Andrew/dp/0802090648